The restaurant will be closed on Monday the 11th for Columbus Day
Tremezzo offers some of the best Italian cuisine in a relaxed setting. Whether you're in the mood for some extraordinary Chicken Parmigiano, delicious salmon as fresh as the ocean, or maybe some traditional pasta that tastes just like it came from the old country, we have something for everyone.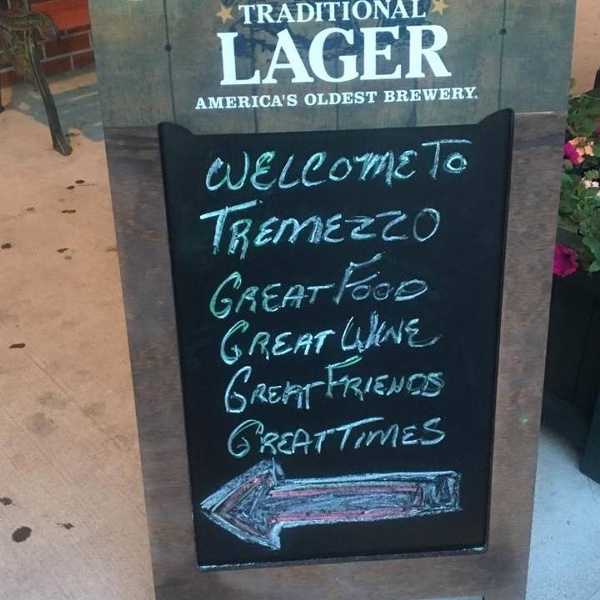 Pomodro, parmesan, fresh mozzarella, topped over a hearty helping of linguini and delicious chicken.
Creamy thick homemade sauce topped over perfectly cooked chicken, fresh broccoli, and ziti with garlic and oil.    
A hearty mix of veal, pork, beef, pancetta, pomodoro, and cream.
Grilled beef tenderloin cooked to your liking, balsamic chianti demi, mashed potatoes, and grilled asparagus.
New York Bianco
Margherita
Picante
Rancho
Hot cherry peppers, served with lemon pepper Aioli.
Only the Best

We pride ourselves in Great Italian inspired dishes, Serious Service from people who care about you, and Cold Drinks that will make you want to come back time and again.
Our new menu offers lots of the same great food with a few additions we know you will enjoy.

"The food here is delicious. Anything on the menu is recommended and the portions are large. Great atmosphere and has a good bar area to meet someone for a drink. Has a function room area for events.."
– Patrick McInerney

"Very enjoyable dining experience"
"Went there for a business lunch….the service was excellent, the food delicious and plentiful and the atmosphere pleasant and unrushed. Will definitely come back next time in town."
– David Heinz

"I wish I could give this place 10 stars"
"My brothers and I just hosted our parent's 50th Anniversary party here last weekend. It was perfect!! The function room was beautiful, the food was superb and the service was top notch"
– Keri Fox

"The taste of the North End, with family atmosphere"
"When my wife and I were dating and living near the city, we'd often go to Boston's North End for dinner. Now with two kids and living north of the city, that's not an option. But my meals at Tremezzo are always excellent, and they food and staff are fantastic. "
– Bill Yelenak